Mortgage
Mortgage Interest Rates Forecast | Will Rates Go Down In July?
Mortgage rate forecast for July 2021
Barring any big surprises in the U.S. economy, mortgage rates shouldn't move up or down dramatically in July.
Fannie Mae is predicting average rates as low as 3.0% throughout summer, while Freddie Mac — one of the more pessimistic forecasters — only sees rates going as high as 3.3%.
Near-record low rates are still available for borrowers with great credit and strong personal finances.
Find your lowest mortgage rate (Jun 23rd, 2021)
---
In this article (Skip to…)
---
Will mortgage rates go down in July? 
It's common for mortgage rates to move up and down each week — even from day to day. That means we could see short spells of lower interest rates in July.
But don't expect rates to drop by a significant amount. And don't expect a continued downward trend below 3%.
With the U.S. economic recovery well underway, and continued strong demand from home buyers, the forces pushing mortgage rates up are far stronger than those that could push rates down.
Any rate drops in July should be only blips in an overall flat or upward trend.
It would likely take a resurgence of COVID cases, a sharp drop-off in home buyer interest, and/or a shockingly bad economic report to push mortgage rates down a significant amount in July. And none of those seems likely at the moment.
The good news is, we're not expecting drastically higher interest rates, either.
That means home buyers and refinancing homeowners could enjoy the same affordable financing in July that we've seen throughout 2021 so far.
Mortgage interest rates forecast next 90 days
We expect mortgage rates to continue to hover near 3% for the next few weeks. Over the next 90 days, a modest overall increase seems likely.
Based on expert mortgage rate predictions and forecasts from housing authorities, 30-year mortgage rates could go as high as 3.20% within the next 90 days.
Keep an eye out for strong jobs reports and news of bond purchase 'tapering' from the Fed if you want to know when rates will rise. (More on this below.)
Keeping an eye on the Federal Reserve
Currently, the Federal Reserve is purchasing $40 billion per month in mortgage-backed securities (MBS) as part of its COVID stimulus program.
This is one of the single biggest factors keeping mortgage rates as low as they are.
When the Fed slows its purchasing of MBS — known as 'tapering' — mortgage rates are almost certain to increase by a wider margin than we've seen this year.
As of its most recent meeting in June, the Fed is only thinking about thinking about tapering its bond-buying program. The more serious these discussions get, the more likely we are to see a meaningful increase in mortgage interest rates.
It seems more likely we'll see these effects after one of the FOMC meetings in September-December than in July.
But there's no guarantee that will be the case, and the Fed meeting on July 27-28 could end up being a market mover. So cautious borrowers might prefer to lock in a rate before then.
Check your mortgage rates today (Jun 23rd, 2021)
Mortgage rate predictions for late 2021
Mortgage interest rates should stay in the low- to mid-3% range throughout the second half of 2021, unless the economy takes a big unexpected turn.
According to major housing authorities — including Fannie Mae, Freddie Mac, and the National Association of Realtors — the average 30-year mortgage rate could fall between 3.0% and 3.30% by the end of summer 2021.
| | |
| --- | --- |
| Housing Authority | 30-Yr Mortgage Rate Prediction (Q3 2021) |
| Fannie Mae | 3.00% |
| National Assoc. of Home Builders | 3.13% |
| National Association of Realtors | 3.20% |
| Mortgage Bankers Association | 3.20% |
| Freddie Mac | 3.30% |
| Wells Fargo | 3.30% |
| Average Prediction | 3.19% |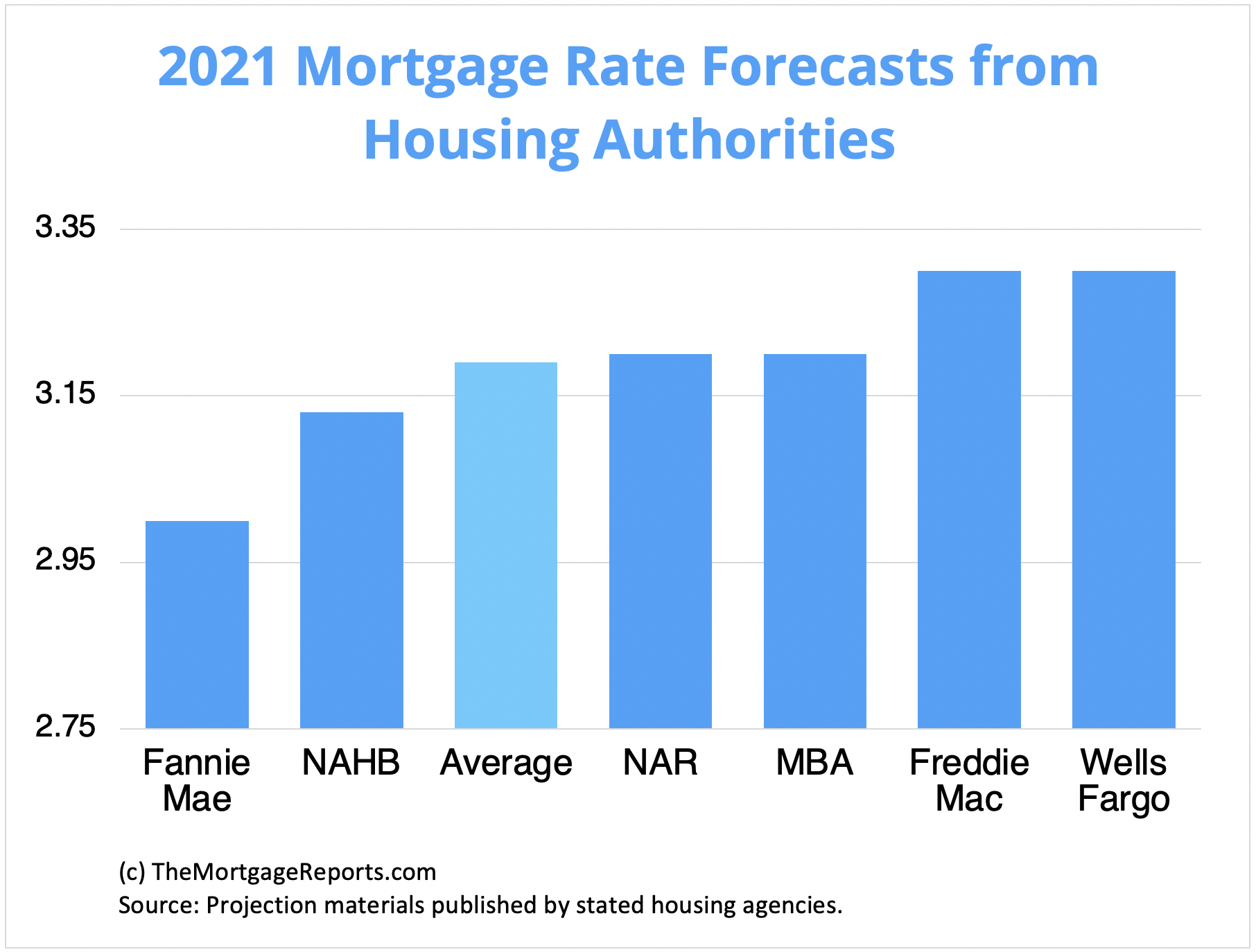 Many industry experts believed rates would rise further and faster in 2021.
However, there's a tug-of-war in the current market keeping mortgage rates low even when it seems like they should have risen.
What could drive mortgage rates up?
An improving economy — The better the U.S. performs for jobs, consumer spending, and overall growth, the higher interest rates should go
Inflation — Inflation almost always leads to higher mortgage rates, and inflation rates in 2021 have far exceeded expectations. (Although the Federal Reserve still maintains current inflation rates should be temporary)
Real estate demand — Despite low inventory, demand for new homes and existing homes remains incredibly strong. Normally, a surge in mortgage financing should lead to higher rates
What's keeping mortgage rates low?
Easy money policies by the Federal Reserve — By keeping its benchmark interest rate (the Federal Funds Rate) near 0% and continuing to purchase billions of dollars worth of mortgage-backed securities (MBS), the Fed is keeping mortgage rates artificially low
Foreign investment in U.S. debt — Foreign investors continue to purchase relatively safe U.S. investments, including Treasury bonds and MBS. An influx of dollars from these investors means continued low interest rates for borrowers
Nadia Evangelou, senior economist and director of forecasting for the National Association of Realtors, summed up this push-and-pull in a recent interview with The Mortgage Reports:
"The economy is growing faster than expected as more Americans get vaccinated against COVID-19 and resume traveling and going to restaurants, bars, events, and shows. However, I don't see mortgage rates making big moves in the near future," she said.
"I don't see mortgage rates making big moves in the near future" –Nadia Evangelou, senior economist, director of forecasting, NAR
"Even though inflation may end the year above 2 percent, the Fed has reassured multiple times that it will allow inflation to run above this 2 percent goal without affecting its low rate policy."
That said, the Fed has recently begun to discuss tapering its MBS purchases — and potentially raising the Fed Funds Rate sooner than expected.
So while mortgage rates are likely to remain low, they may not stay in "record" territory throughout 2021. Rising rates are far more likely right now than falling ones.
Current mortgage interest rate trends 
Current mortgage rates are still at historic lows.
Since 1972 — when Freddie Mac began tracking rates — the average mortgage rate for a 30-year loan has been around 8%.
By comparison, today's mortgage rates start at 3% (3% APR) for a 30-year fixed-rate mortgage. And rates start at just 2.625% (2.625% APR) for a 15-year FRM.1
The following chart shows mortgage rate trends for 30- and 15-year fixed-rate mortgages based on Freddie Mac's weekly interest rate survey:
Keep in mind, average interest rates are just that — averages. Some borrowers will get higher interest rates, and some lower.
In addition, Freddie Mac's averages reflect only home purchase mortgage rates.
Current refinance rates tend to be a bit higher due to new fees imposed by Fannie Mae and Freddie Mac.
Whether you're buying or refinancing, make sure to get rate quotes from a minimum of three lenders. Near-record-low rates may still be available for borrowers with strong financials — but only if you're willing to shop around and find your best deal.
Find your lowest mortgage rate (Jun 23rd, 2021)
Mortgage rate trends by loan type 
Many mortgage shoppers don't realize there are different types of rates in today's mortgage market. 
But this knowledge can help home buyers and refinancing households find the best value for their situation.
Following are 3-month mortgage rate trends for the most popular types of home loans: conventional, FHA, VA, and jumbo.
| | | | |
| --- | --- | --- | --- |
| | May '21 | Apr '21 | Mar '21 |
| Conforming Loan Rates | 3.15% | 3.17% | 3.34% |
| FHA Loan Rates | 3.23% | 3.20% | 3.33% |
| VA Loan Rates | 2.81% | 2.77% | 2.97% |
| Jumbo Loan Rates | 3.21% | 3.21% | 3.27% |
Source: Black Knight Originations Market Monitor Report
Which mortgage loan is best?
The best mortgage for you depends on your financial situation and your goals.
For instance, if you want to buy a high-priced home and you have great credit, a jumbo loan is your best bet. Jumbo mortgages allow loan amounts above conforming loan limits — which max out at $548,250 in most parts of the U.S.
On the other hand, if you're a veteran or service member, a VA loan is almost always the right choice.
VA loans are backed by the U.S. Department of Veterans Affairs. They provide ultra-low rates and never charge private mortgage insurance (PMI). But you need an eligible service history to qualify.
Conforming loans and FHA loans (those backed by the Federal Housing Administration) are great low-down-payment options.
Conforming loans allow as little as 3% down with FICO scores starting at 620.
FHA loans are even more lenient about credit; home buyers can often qualify with a score of 580 or higher, and a less-than-perfect credit history might not disqualify you.
Finally, consider a USDA loan if you want to buy or refinance real estate in a rural area. USDA loans have below-market rates — similar to VA — and reduced mortgage insurance costs. The catch? You need to live in a 'rural' area and have moderate or low income to be USDA-eligible.
Find your lowest mortgage rate (Jun 23rd, 2021)
Mortgage rate strategies for July 2021
Rates seem likely to rise in July and beyond. But there are still great opportunities to be had for home buyers and refinancing homeowners in 2021.
Here are just a few strategies to keep in mind if you're mortgage shopping in the next few months.
Save more by shopping around
Mortgage rates may have risen since last year. But some mortgage lenders are still offering near-record low rates.
There's a catch, though.
You can't just look for the lowest rate advertised online. Because the rates lenders advertise aren't available to everyone.
Those offers typically represent borrowers with perfect credit, 20% down or more, and a sterling credit history.
Those criteria won't apply to everyone. The rate you're actually offered depends on:
Your credit score
Your credit history
Your down payment (if buying a home)
Your home equity (if refinancing)
Your loan-to-value ratio (LTV)
Your debt-to-income ratio (DTI)
To figure out what rate a lender can offer you based on those factors, you have to fill out a loan application. Lenders will check your credit and verify your income and debts, then give you a 'real' rate quote based on your financial situation.
You should get 3-5 of these quotes at minimum. Then compare them to find the best offer.
Look for the lowest rate, but also pay attention to your annual percentage rate (APR), estimated closing costs, and 'discount points' — extra fees charged upfront to lower your rate.
This might sound like a lot of work. But you can shop for mortgage rates in under a day if you put your mind to it. And shaving just a few basis points off your rate can save you thousands.
Find your lowest mortgage rate (Jun 23rd, 2021)
Buyers: Learn to compete with cash offers
If you're reading this, you're probably well aware of how competitive the housing market is.
Today's first-time home buyers are ready to compete with multiple bidders and offer above asking price — even though home prices are already sky-high.
But there's one aspect of the home buying process you might not expect. And that's having to compete with an all-cash offer.
Shockingly, around one in four buyers in 2021 are making cash offers on a home. And those offers often look more attractive to sellers. They can close faster and have cash in hand almost immediately.
But mortgage borrowers don't have to fall by the wayside. There are strategies you can use to beat an all-cash offer, including (carefully) waiving contingencies, covering a low appraisal, upping your earnest money deposit, and more.
Check out the article How to beat an all-cash offer on a house: 7 Strategies for more tips to compete in today's red-hot housing market.
Low-income refinance options are here
Starting in June 2021, low-income homeowners with Fannie Mae-backed loans can access a new loan option called RefiNow.
This low-income refinance program will save eligible borrowers at least $50 per monthly payment, and could lower the upfront cost of refinancing by waiving home appraisals and the Adverse Market Refinance Fee. 
A similar refinance loan from Freddie Mac, called Refi Possible, should be available starting in August.
If you've been considering a refinance but didn't think you'd qualify, ask your lender about these programs.
Verify your refinance eligibility (Jun 23rd, 2021)
Mortgage interest rate FAQ 
Are mortgage rates expected to drop? 
Mortgage rates are not expected to drop by any significant amount in the remainder of 2021. Of course, interest rates are volatile, and rates could potentially drop below 3 percent on occasion. But those should be blips in an overall flat or upward trend.
Will mortgage interest rates go up in 2021?
Yes, mortgage rates are likely to increase in 2021. Economic growth and high inflation typically bring higher mortgage rates. And the U.S. economy is experiencing both of these trends right now as it recovers from the coronavirus pandemic. Most experts believe it's only a matter of time before interest rates rise accordingly.
What is the 30-year mortgage rate right now? 
Freddie Mac is still citing average 30-year rates around 3.0 percent. But other rate aggregators, such as Mortgage News Daily, use different measures that put today's rates above 3.2 percent. Rates vary by borrower, so averages can be misleading. Today's refinance rates are generally higher than today's home purchase rates.
What is the lowest mortgage rate ever? 
At the time of this writing, the lowest 30-year mortgage rate ever was 2.65 percent. That's according to Freddie Mac's Primary Mortgage Market Survey, the most widely-used benchmark for current mortgage interest rates.
What's a good mortgage rate? 
Any mortgage rate in the low- to mid-3 percent range is very good by historical standards. Looking back just one year, mortgage rates started 2020 at nearly 4 percent. And they were above 4.5 percent in early 2019. So today's rates are excellent by comparison.
Is now a good time to refinance? 
That depends on your situation. It's a good time to refinance if your current mortgage rate is above market rates and you could lower your monthly mortgage payment. It might also be good to refinance if you can switch from an adjustable-rate mortgage to a low fixed-rate mortgage; refinance to get rid of FHA mortgage insurance; or switch to a short-term 10- or 15-year mortgage to pay off your loan early.
Is it worth refinancing for 1 percent? 
It's often worth refinancing for 1 percentage point, as this can yield significant savings on your mortgage payments and total interest payments. Just make sure your refinance savings justify your closing costs. You can use a mortgage calculator or speak with a loan officer to crunch the numbers.
What will mortgage rates be in 5 years? 
Based on what we know today, it seems likely mortgage rates could be higher in 5 years than they are now. Current mortgage rates are near their lowest levels ever, and seem more likely to rise than to drop further. However, any number of unexpected events could change the course of interest rates in the next few years. For instance, no one predicted the COVID pandemic would push mortgage rates to new record lows in 2020 and 2021.
How do I shop for mortgage rates? 
Start by choosing a list of 3-5 mortgage lenders that you're interested in. Look for lenders with low advertised rates, great customer service scores, and recommendations from friends, family, or a real estate agent. Then get pre-approved by those lenders to see what rates and fees they can offer you. Compare your offers ('Loan Estimates') to find the best overall deal for the loan type you want.
Should I lock my mortgage rate today?
Refinancers: If you've compared loan offers and you're confident you've found the best deal, today is a great time to lock a mortgage refinance rate. Home buyers: If you have a signed purchase agreement and a loan approval in hand, today is also a great time for you to find a low rate and lock in.
What are today's mortgage rates?
Low mortgage rates are still available. You can get a rate quote within minutes with just a few simple steps to start.
Verify your new rate (Jun 23rd, 2021)
1Today's mortgage rates based on a daily survey of select lending partners of The Mortgage Reports. Interest rates shown here assume a credit score of 740. See our full loan assumptions here.
Selected sources:
https://www.blackknightinc.com/category/press-releases
https://tradingeconomics.com/united-states/calendar 
https://www.federalreserve.gov/monetarypolicy/fomccalendars.htm
http://www.freddiemac.com/research/datasets/refinance-stats/index.page
Source
Mortgage Interest Rates Forecast | Will Rates Go Down In July? is written by Tim Lucas for themortgagereports.com